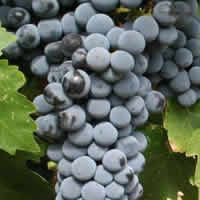 Cabernet Sauvignon Wines
Description:
Cabernet Sauvignon grapes grow well in just about any climate that isn't cold. The Cabernet Sauvignon wines are higher in tannins, medium to full-bodied with aromas of black currants or cassis.
The inexpensive versions of Cabernet Sauvignon are usually quite soft, nondescript fruitiness and medium-bodied at best. While the more expensive wines tend to be rich and firm with great depth and classic Cabernet flavor. They can also be aged for 15+ years!
Cabernet Sauvignon Profile
Fruit- Black Cherry, Black Currant
Other- Cedar, Baking Spices, Graphite
Serving Temperature- 60-68 F
Decant- 1-hour
Age- 10+ years
Cabernet Sauvignon Wine Reviews:
Top Picks:
Justin Cabernet Sauvignon 2009


Mollydooker Cabernet Sauvignon 2008


Unico Luis Miguel Cabernet Sauvignon Gran Reserva 2004

American Cabernet Sauvignon Wines
Beaulieu Vineyard Cabernet Sauvignon 2006


Hedgeline Vineyards Cabernet Sauvignon 2008


Joel Gott 815 Cabernet Sauvignon 2008


Justin Cabernet Sauvignon 2009


Liberte' Cabernet Sauvignon 2008


Mad Housewife Cabernet Sauvignon 2009


Michael David Winery Earthquake Cabernet Sauvignon 2009


Monogamy Cabernet Sauvignon 2007


Murphy-Goode Cabernet Sauvignon 2007


Newton Skyside Cabernet Sauvignon 2016


Optima Cabernet Sauvignon 2003


Ravenswood Cabernet Sauvignon 2009


Rio Vaca Small Lot Reserve Cabernet Sauvignon 2006


Robert Mondavi Private Selection Cabernet Sauvignon 2017


Snapping Turtle Cabernet Sauvignon 2008


Talus Cellars Cabernet Sauvignon 2007


Tobin James Notorious Cabernet Sauvignon 2007


Wily Jack Cabernet Sauvignon 2007

Argentina Cabernet Sauvignon Wines
Aconga Malbec Cabernet Sauvignon 2009


Espuela del Gaucho Cabernet Sauvignon 2007

Australian Cabernet Sauvignon Wines
Mollydooker Cabernet Sauvignon 2008


The Little Penguin Cabernet Sauvignon 2009

Chile Cabernet Sauvignon Wines
PKNT Cabernet Sauvignon 2009


Unico Luis Miguel Cabernet Sauvignon Gran Reserva 2004