Margerum Riviera Rosé 2022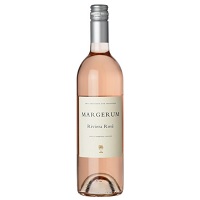 Margerum Riviera Rosé 2022
Country- USA
State- California
Brand- Margerum
Vintage- 2022
Type- Rosé
Varietal- Pink Wine
Price- $$$
Average Wine Rating- 4
Description:
Margerum Riviera Rosé is a rosé wine produced by Margerum Winery in Santa Barbara County, California. It is a blend of Grenache, Syrah, and Counoise grapes, and is made using the saignée method, which involves bleeding off some of the juice from red grapes before fermentation. This results in a rosé wine with a light pink color and fruity flavors.
Color: Light pink with a slightly orange hue
Aroma: Strawberry, watermelon, verbena, passionfruit, orange blossom
Palate: Dry, crisp, strawberry, watermelon, citrus
Body: Medium
Acidity: Refreshing
Finish: Medium
About the Winery
Margerum Winery is a winery in Santa Barbara County, California that specializes in Rhône-style wines. The winery was founded in 1997 by Jeff Margerum.
The winery's estate vineyard is located in the Los Olivos District of Santa Ynez Valley. The vineyard is planted to a variety of Rhône grape varietals, including Syrah, Grenache, Mourvèdre, Viognier, and Roussanne.
Tobin's Review 4 out of 5
Margerum Riviera Rosé 2022 has a light pink hue with aromas of strawberry and jam. I pick up flavors of red berries, strawberry, boysenberry and a little curd. The wine is light and creamy with a crisp custard finish. This is a nice wine, especially for a hot summer day!
Have you had this wine? Comment below and share your thoughts on Margerum Riviera Rosé 2022!