Cliffside Cabernet Sauvignon 2020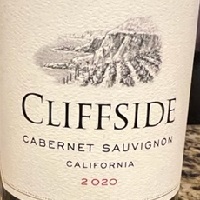 Cliffside Cabernet Sauvignon 2020
Country- USA
State- Napa, California
Brand- Cliffside
Vintage- 2020
Type- Cabernet Sauvignon
Varietal- Red Wine
Price- $$
Average Wine Rating- 3
Description:
Cliffside Cabernet Sauvignon 2020 is vinted and bottled by Terroir Napa Valley in Napa, California. The wine is part of the Wine Country Gifts collections. Cliffside's Cabernet Sauvignon 2020 has notes of ripe black cherry, black currant, red currant, raspberry with hints of sage, green pepper, vanilla, nutmeg and all spice.
Tobin's Review 3 out of 5
Cliffside's Cabernet Sauvignon 2020 has a dark inky hue with dark fruit and light tobacco aromas. The wine doesn't have much substance, but it is very drinkable. I pick up notes of black and blueberry with a slight sweet plum and a freshly cut grass finish. Overall, I like it, but it doesn't taste like a true Cab.
Have you had this wine? Comment below and share your thoughts on this Cabernet Sauvignon!