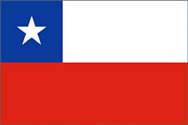 Chilean Wines-
Most of Chile's vineyards are located in the Central Valley, which lies between the coastal range the Andes mountains.
Four wine regions occupy this area from North to South:
1. Aconcagua- North of Santiago, the warmest are for fine grapes.
2. Maipo- Home to many of the country's major wineries.
3. Rapel- Cooler region than Maipo.
4. Maule- Cooler and less dray than Rapel.
Reviewed Wines
Top Picks:
Criterion Carménère Reserva 2019


Unico Luis Miguel Cabernet Sauvignon Gran Reserva 2004

Chilean Wines:
Criterion Carménère Reserva 2019


Elqui Carmenere Syrah Malbec 2015


Found Object Carmenere 2010


Montes Carmenere Purple Angel 2017


PKNT Cabernet Sauvignon 2009


Unico Luis Miguel Cabernet Sauvignon Gran Reserva 2004


Veramonte Sauvignon Blanc 2018


Vistamar Gran Reserva 2017