Espuela del Gaucho Cabernet Sauvignon 2007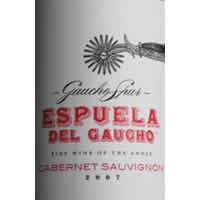 Espuela del Gaucho Cabernet Sauvignon 2007
Country- Argentina
Region- Mendoza Region
Brand- Espuela del Gaucho
Vintage- 2007
Type- Cabernet Sauvignon
Varietal- Red Wine
Price- $$
Average Wine Rating- 2
Description:
Espuela del Gaucho Cabernet Sauvignon 2007 is rich in flavors of cassis and black fruits.  It has notes of subtle oak that carry this wine.
Tobin's Review- 2 out of 5
I found this cabernet sauvignon to lack flavor.  It was a heavy wine, but it was very bland!