Talus Cellars Cabernet Sauvignon 2007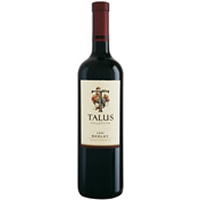 Talus Cellars Cabernet Sauvignon 2007
Country- USA
State- Woodbridge, California
Brand- Talus Cellars
Vintage- 2007
Type- Cabernet Sauvignon
Varietal- Red Wine
Price- $
Average Wine Rating- 3
Description:
Talus Cellars 2007 Cabernet Sauvignon has subtle notes of blackberry, mint and licorice. It has a nice balance with a long soft finish.
Tobin's Review 2.5 out of 5
Drinkable wine, not bad.
Have you had this wine? Comment below and share your thoughts on Talus Cellars Cabernet Sauvignon 2007!