PKNT Cabernet Sauvignon 2009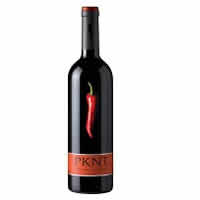 PKNT Cabernet Sauvignon 2009
Country– Chile
Brand– PKNT
Type- Cabernet Sauvignon
Varietal– Red Wine
Price– $$
Average Wine Rating– 3
Description:
PKNT Cabernet Sauvignon 2009 is produced in the Central Valley of Chile. The wine has a dark red color, fruity red cherries, plums and a touch of toasty oak on the nose. On the palate the wine has soft rounded tannins, a firm structure and a finish with chocolate and berries.
Tobin's Review- 3 out of 5
PKNT Cabernet Sauvignon has a nice dark color. The aroma is fruity with hints of cherry and chocolate. It is light on the tongue, smooth, chocolaty and a hint of oak. It is very smooth, not complex and a light Cabernet.
Have you had this wine? Comment below and share your thoughts on PKNT Cabernet Sauvignon 2009!