Monogamy Cabernet Sauvignon 2007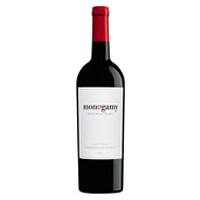 Monogamy Cabernet Sauvignon 2007
Country- USA
State- Santa Rosa, California
Brand- Monogamy
Vintage- 2007
Type- Cabernet Sauvignon
Varietal- Red Wine
Price- $$
Average Wine Rating- 3
Description:
Monogamy's 2007 Cabernet Sauvignon is actually a mix of 88% Cabernet Sauvignon and 12% Merlot. The wine is aged in French and American oak barrels for 14-months, and has aromas of black olive, cassis, plum and dried herbs. The flavors consist of cassis and plum with a smooth velvety texture, followed by a lingering and slightly toasty finish.
Tobin's Review 3 out of 5
Monogamy's 2007 Cabernet Sauvignon has a fruity aroma, with hints of cherry. It was a very clean Cabernet Sauvignon, and I enjoyed it.
Jeanine's Review 3 out of 5
I enjoyed this wine because it was very smooth. I could taste hints of vanilla, and I think that is what made it so easy to drink. It was a nice medium-bodied wine.
Have you had this wine? Comment below and share your thoughts on Monogamy Cabernet Sauvignon 2007!