Beaulieu Vineyard Cabernet Sauvignon 2006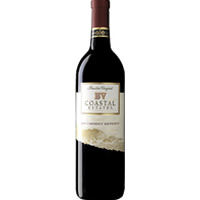 Beaulieu Vineyard Cabernet Sauvignon 2006
Country- USA
State- Rutherford, California (Sonoma)
Brand- Beaulieu Vineyards
Vintage- 2006
Type– Cabernet Sauvignon
Varietal- Red Wine
Price- $
Average Wine Rating- 3
Description:
Beaulieu Vineyards 2006 Cabernet Sauvignon is produced in Rutherford, California which is located in the Sonoma region. The wine unfolds in velvety layers of ripe blackberries, cherries and spices. Smooth tannins envelop the dark fruit flavors while tasty vanilla oak nuances linger on the finish. This cabernet sauvignon has grapes from several of California's finest wine growing regions.
About the Winery
Beaulieu Vineyard is located in Rutherford, CA. "Beau lieu," or "Beautiful place" was named by George de Latour's wife Fernande in 1900 when she first time saw the land that would become their Rutherford Vineyard. During the 1920's when Prohibition hit, Beaulieu Vineyards actually thrived selling sacramental wines to the Catholic Church. The winery has enjoyed a successful history and is currently run by winemaker Trevor Durling (only the 5th winemaker since inception.)
Tobin's Review 3 out of 5
BV's Cabernet is not an oaky cabernet, but you can definitely taste the oak flavor. I could really taste the vanilla, which made it a refreshing cabernet that is smooth and very drinkable.
Jeanine's Review 3 out of 5
I found BV's Cabernet to be smooth for a cabernet. It is a good bargain for the price!
Have you had this wine? Comment below and share your thoughts on Beaulieu Vineyard Cabernet Sauvignon 2006!