Tobin James Ballistic Zinfandel 2015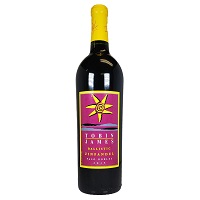 Tobin James Ballistic Zinfandel 2015
Country- USA
State- CA
Brand- Tobin James
Vintage- 2015
Type- Zinfandel
Varietal- Red Wine
Price- $$
Average Wine Rating- 4
Description:
Tobin James Ballistic Zinfandel 2015 has layers of plum and red fruit with spice on the palate.
About the Winery
In 1993, Tobin James founded Tobin James Cellars in Paso Robles, CA. In 1996, Tobin would add and Lance and Claire Silver as business partners. The trio have earned accolades ever since, and Tobin James continues to produce fine wines.
Tobin's Review 4 out of 5
Ballistic Zinfandel 2015 has a dark plum hue with aromas of raisin, chocolate and light spice. This Zinfandel has medium tannins with flavors of raisin, caramel, dark cherry and dark chocolate. This is a solid wine that is both velvety and well-balanced.
Have you had this wine? Comment below and share your thoughts on Ballistic Zinfandel!