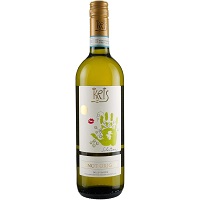 KRIS Pinot Grigio 2019
Country- Italy
Brand- KRIS
Vintage- 2019
Type- Pinot Grigio
Varietal- White Wine
Price- $
Average Wine Rating- 4
Description:
KRIS Pinot Grigio 2019 has aromas of acacia flowers and delicate almonds. The wine is clean and refreshing on the palate with hints of linden and honey with a dry, crisp finish.
About the Winery
The KRIS Winery was founded in 1980 in Montagna, which is located in Italy's Alto Adige region. The winery produces Pinot Grigio, Pinot Noir, Rose' and Sparkling Cuvee wines.
Tobin's Review 4 out of 5
KRIS Pinot Grigio 2019 has a light hay hue with creamy pineapple aromas. The wine has flavors of citrus, pineapple, kiwi, light wood and chalk. It is a nice creamy, slightly sweet wine that is offset by the citrus notes. I enjoyed this Pinot Grigio!
Have you had this wine? Comment below and share your thoughts on this Pinot Grigio!