Duck Hunter Sauvignon Blanc 2019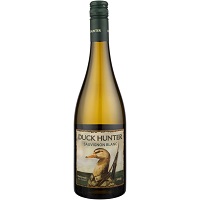 Duck Hunter Sauvignon Blanc 2019
Country- New Zealand
State- Marlborough
Brand- Duck Hunter
Vintage – 2019
Type- Sauvignon Blanc
Varietal- White Wine
Price- $$
Average Wine Rating- 3
Description:
Duck Hunter Sauvignon Blanc 2019 bursts with ripe passion fruit aromas and citrusy flavors. The finishes well with smooth peachy sweetness and a lingering fresh acidity.
About the Winery
Mark Wilson and Rosie McLean founded Duck Hunter Wines in Auckland, New Zealand. Duck Hunter has won several awards for their wines, in thanks to winemaker Jed Penkman. The company currently produces Sauvignon Blanc, Pinot Gris, Pinot Noir and Chardonnay wines.
Tobin's Review 3 out of 5
Duck Hunter's Sauvignon Blanc 2019 has a nice light honeysuckle hue with lemon and pineapple aromas. The wine opens with flavors of pineapple, sweet lemon custard and creamy with tropical fruit notes. Overall it's a smooth Sauvignon Blanc.
Have you had this wine? Comment below and share your thoughts on this Sauvignon Blanc!