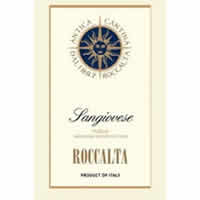 Roccalta Sangiovese 2009
Country- Italy
Brand- Roccalta
Vintage- 2009
Type- Sangiovese
Varietal- Red Wine
Price- $
Average Wine Rating- 2
Description:
Roccalta Sangiovese 2009 is produced from Sangiovese grapes from Puglia and fermented in stainless steel.  It is straightforward, easy drinking and full of spices, flavors of plum and dark cherry.
Tobin's Review 2 out of 5
Roccalta Sangiovese is a dry, acidic wine.  It is very simple with a hint of cherry and a very dry finish.  This is not a refreshing wine, and I really didn't care for it.
Have you had this wine?  Comment below and share your thoughts on Roccalta Sangiovese 2009!