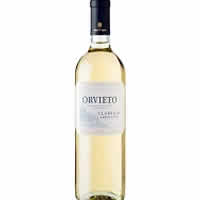 Ruffino Orvieto 2010
Country- Italy
Region- Umbria
Brand- Ruffino
Vintage- 2010
Type- Orvieto
Varietal- White Wine
Price- $$
Average Wine Rating- 3
Description:
Ruffino Orvieto 2010 is a clean and crisp white wine with hints of citrus and golden apple. The wine is medium-bodied and easy on the palate with a dry aftertaste. This wine pairs very well with seafood dishes.
Tobin's Review 3 out of 5
Ruffino Orvieto is a dry white wine produced in the Umbria region of Italy. The wine is crisp, with hints of melon and a fresh aftertaste; with an apple background. Good crisp white wine.
Have you had this wine? Comment below and share your thoughts on Ruffino Orvieto 2010!