Elqui Carmenere Syrah Malbec 2015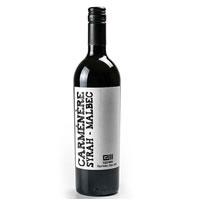 Elqui Carmenere Syrah Malbec 2015
Country– Chile
Brand- Elqui Winery
Vintage– 2015
Type– Red Blend
Varietal– Red Wine
Price- $$
Average Wine Rating– 3
Description:
Elqui Carmenere Syrah Malbec 2015 is a fresh red blend which consists of 55% Syrah, 27% Carmenere and 18% Malbec. The wines nose has plenty of dark fruits, some currant and a minty almost almond hint of menthol. The wine is young, juicy and vibrant with loads of smooth tannin, earthy elements and elegant minerals which build in a smooth lingering finish.
About the Winery
Elqui winery is owned by Steffan Jorgensen and his wife Pamela Nunez. Steffan was previously was Head Winemaker at Bergevin Lane in Walla Walla, WA. Their current winery makes small lot varietal wines and blends from their 20 acre estate in Chile's Elqui Valley.
Tobin's Review- 3 out of 5
Elqui's red blend has a nice plum hue. The nose is very fruit forward with deep dark cherry aromas. The wine is a bit surprising, as I expected more fruit forward flavor, but it's actually a bit acidic. I pick up notes of plum, it is nice and light but very acidic.
Jeanine's Review- 3.5 out of 5
This Chilean wine has cherry and fruity aromas. The wine starts with a slight pepper but ends with a smooth finish. I pick up tastes of cherry in this red blend.
Have you had this wine? Comment below and share your thoughts on Elqui Carmenere Syrah Malbec 2015!