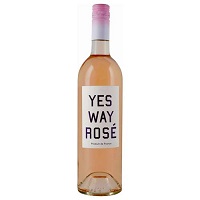 Yes Way Rosé 2020
Country- France
Brand- Yes Way Rosé
Vintage- 2020
Type- Rosé
Varietal- Pink Wine
Price- $$
Average Wine Rating- 3
Description:
Yes Way Rosé 2020 is a classic Provencal-style Rosé made from a Grenache-based blend of grapes. The wine has strawberry, citrus and stone fruit flavors with a dry finish.
About the Winery:
Yes Way Rosé was founded in 2013 by two friends from New York City, Erica and Nikki. The duo worked in the fashion industry, but fell in love with Rosé wines. Their passion has led to a line of delectable French Rosé wines!
Tobin's Review 3 out of 5
Yes Way Rosé 2020 has a light salmon hue with a berry aroma. The wine has musty fruit flavors of strawberry and a slight cherry. The wine has a full mouth with a dry finish. Overall it's an average Rosé.
Have you had this wine? Comment below and share your thoughts on this Rosé!