Sheep Thrills Pinot Grigio 2019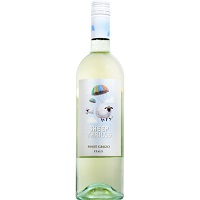 Sheep Thrills Pinot Grigio 2019
Country- Italy
Brand- Sheep Thrills
Vintage- 2019
Type- Pinot Grigio
Varietal- White Wine
Price- $$
Average Wine Rating- 4
Description:
Sheep Thrills Pinot Grigio 2019 is a medium-bodied white wine with delicate floral aromas, fresh fruit flavors and a crisp elegant finish.
About the Winery
Palm Bay International was founded in 1977 in Port Washington, New York. The company is a progressive, family owned wine and spirits organization that has a comprehensive portfolio comprised of estates, distilleries and popular brands from 15-countries.
Tobin's Review 4 out of 5
Sheep Thrills Pinot Grigio 2019 has a light green hue with a strong honeydew aroma. The wine has a soft creamy mouth that ends crisp. I pick up notes of honeydew, cantaloupe and quince. Overall this is a tasty Pinot Grigio!
Have you had this wine? Comment below and share your thoughts on this Pinot Grigio!