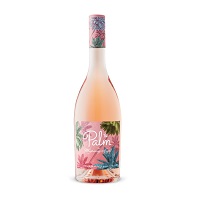 The Palm Rosé 2019
Country- France
State- Provence
Brand- Chateau d'Esclans
Vintage- 2019
Type- Rosé
Varietal- Pink Wine
Price- $$
Average Wine Rating- 3
Description:
The Palm Rosé 2019 has a pale pink color with an expressive nose. On the palate the wine is juicy with a fine acidity.
About the Winery:
Chateau d'Esclans is located in the heart of Provence. The Chateau was purchased by Sacha Lichine in 2006, and his mission was to create the greatest roses in the world. The primary grape grown on the property is Grenache followed by Verminto, and the winery has 345 acres of vineyards.
Tobin's Review 3 out of 5
The Palm by Whispering Angel Rosé 2019 has a rose gold color and berry and floral aromas. The wine has strawberry, cranberry, light lemon and a silty chalk notes. Overall it's a nice crisp Rosé.
Have you had this wine? Comment below and share your thoughts on this Rosé!