Le Chant de la Vigne Pouilly Fume 2019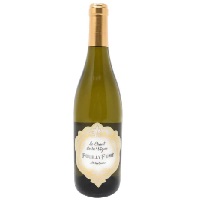 Le Chant de la Vigne Pouilly Fume 2019
Country- France
State- Loire Valley
Brand- Le Chant de la Vigne
Vintage- 2019
Type- Pouilly Fume- Sauvignon Blanc
Varietal- White Wine
Price- $$
Average Wine Rating- 3
Description:
Le Chant de la Vigne Pouilly Fume 2019 is a dry and elegant wine made from 100% Sauvignon Blanc that are grown in a combination of flint and limestone soils. The result is a wine that is crisp with aromas of fresh citrus fruit.
Tobin's Review- 3 out of 5
Le Chant de la Vigne's Pouilly Fume 2019 has a light green mineral hue with aromas of pineapple and citrus. The wine has nice flavors of citrus, lemon and slight chalk. Overall it's a nice light wine that is creamy but yet crisp.
Have you had this wine? Comment below and share your thoughts on this Pouilly Fume!