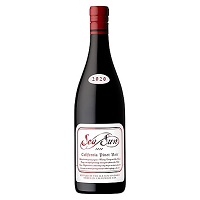 Sea Sun Pinot Noir 2019
Country- USA
State- Fairfield, CA
Brand- Sea Sun Vineyard
Type- Pinot Noir
Varietal- Red Wine
Price- $$
Average Wine Rating- 3.5
Description:
Sea Sun Pinot Noir 2019 has aromas of baked cherries and pie crust, brown spice, warm vanilla and a hint of earthiness. The wine has flavors of lush cherry, French plum, dark chocolate and toasted integrated wood. The finish evokes a feel of milk chocolate, a plush mouth texture, cherry compote and a wisp of florals.
About the Winery:
Charlie Wagner, whose family founded Caymus Vineyards, produces Sea Sun wines. Sea Sun Vineyard sources their grapes from Santa Barbara, Monterey, Solano and San Luis Obispo County and they focus on Chardonnay and Pinot Noir wines. Sea Sun is featured at Caymus in the Napa Valley.
Tobin's Review 3.5 out of 5
Sea Sun Pinot Noir 2019 has a very dark cherry hue, which is a bit different for a Pinot Noir. The wine bursts with aromas of fruity cherry and jam. It is soft on the tongue with fruit, tea leaves and a slight wood flavor that balances it out. This is a very smooth, drinkable wine!
Have you had this wine? Comment below and share your thoughts on this Pinot Noir!