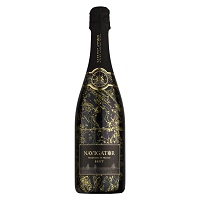 Navigator Sparkling Brut
Country- USA
State- Napa, CA
Brand- Precision Wine Company
Type- Sparkling Wine
Varietal- White Wine
Price- $$$
Average Wine Rating- 3
Description:
Navigator Sparkling Brut has a pale golden color with delicate bubbles and white, fresh fruit on the palate (pear and apple.)
About the Winery
Trevor Sheehan founded the Precision Wine Company in California's Napa Valley. The company showcases the complexity of flavor, diversity of terroir and distinct characteristics of California's appellations and wine regions.
Tobin's Review 3 out of 5
Navigator's Sparkling Brut has a nice light honeysuckle hue, steady bubbles and a slight floral aroma. The wine is smooth with a hint of citrus that finishes slightly dry. It's well balanced.
Have you had this wine? Comment below and share your thoughts on this sparkling wine!