Salcheto Nobile di Montepulciano 2016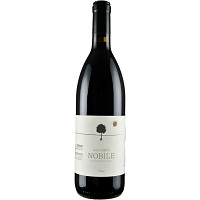 Salcheto Nobile di Montepulciano 2016
Country- Italy
Region- Montepulciano
Brand- Salcheto Winery
Vintage- 2016
Type- Vino Nobile di Monetpulciano
Varietal- Red Wine
Price- $$$
Average Wine Rating- 4
Description:
Salcheto Nobile di Montepulciano 2016 is a rich, round, red wine with cherry, plum, earth and mineral flavors. The wine is comprised of Sangiovese grapes.
About the Winery:
In 1984, Michele Manelli founded the Salcheto Winery in Montepulciano, Italy. They would produce their first wines in 1990, and were sold in 2003 to the Lavina Wine Company. Manelli stayed on as the GM and the winery has built a reputation for producing high-quality Vino Nobile wines.
Tobin's Review 4 out of 5
Salcheto's Nobile di Montepulciano 2016 has a dark plum hue with fruity cherry, tart and light acetone aromas. The wine is smooth with deep dark fruit flavors of blackberry, blueberry, light wood and chalk. This is a good wine.
Have you had this wine? Comment below and share your thoughts on this Sangiovese