Roederer Estate L'Ermitage 2002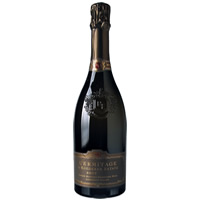 Roederer Estate L'Ermitage 2002
Country- USA
State- Philo, CA
Brand- Roederer Estate
Vintage- 2002
Type- Sparkling Wine
Varietal- White Wine
Price- $$$$
Average Wine Rating- 3
Description:
Roederer Estate L'Ermitage 2002 is produced in the Anderson Valley in Philo, CA. This sparkling wine is only made in exceptional years from pre-selected, estate grown grapes. The 2002 L'Ermitage is crisp with rich flavors of citrus and ginger followed by notes of toasted brioche. It's well balanced, but also quite lush on the palate with a delicate finish.
About the Winery
Roederer Estate Brut is the first California sparkling wine to be produced by Champagne Louis Roederer, further building upon a 200-year tradition of fine winemaking from this family owned company. Roederer's unique winemaking style is based on two elements: complete ownership of its vineyards and the addition of oak-aged reserve wines to each year's blend or cuvée.
Tobin's Review 3 out of 5
Roederer Estate L'Ermitage 2002 has a light color with nice bubbles. It has a frothy head when pouring and I pick up melon on the nose. It is sweet and smooth with a little bit of apple on the finish.
Jeanine's Review 3.5 out of 5
Roederer Estate L'Ermitage 2002 is a good Sparkling Wine. It is a bit sweeter than I tend to prefer, but it does have a little tartness at the end. It is light and overall pretty good.
Have you had this wine? Comment below and share your thoughts on Roederer Estate L'Ermitage 2002!