Rutherford Hill Merlot 2007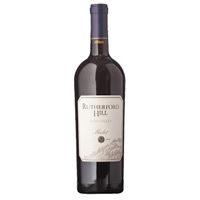 Rutherford Hill Merlot 2007
Country- USA
State- Rutherford, California
Brand- Rutherford Hill
Vintage- 2007
Type- Merlot
Varietal- Red Wine
Price- $$$
Average Wine Rating- 3
Description:
Rutherford Hill Merlot 2007 is made using the "Hermitage technique". This technique calls for the addition of Syrah to the blend. The Syrah adds to the body, character and heft while the other grapes add to the structure and aromatics. This Merlot has an abundance of cherry fruit flavors which are backed by a rich, balanced structure for an intensely complex Merlot. The wine is silky, full-flavored, firm, and has smooth tannins and lush layers of flavor.
About the Winery
Rutherford Hill Winery in located in Rutherford, CA which is in the Napa Valley. The winery was founded in 1972 and was a pioneer in the development of California's Merlot. The climate and soil conditions resemble those of Pomerol, a Merlot-growing region of Bordeaux. Today, Merlot remains the flagship wine of the company with 75 percent of Rutherford Hill's production dedicated to this varietal.
Tobin's Review 2.5 out of 5
Rutherford Hill Merlot 2007 has aromas of pepper and oak. This Merlot is definitely stronger on the tongue and I taste hints of oak. It's definitely a heftier Merlot, I suppose that is the Syrah's strong presence.
Jeanine's Review 3 out of 5
Rutherford Hill Merlot 2007 is a much oakier Merlot. It has a subtle nice aroma and I taste black cherry, but it's definitely not your typical California Merlot.
Have you had this wine? Comment below and share your thoughts on Rutherford Hill Merlot 2007!