Reserve Lot 47 Santa Lucia Highlands Pinot Noir 2017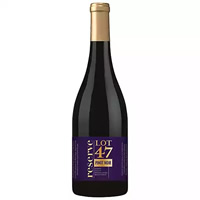 Reserve Lot 47 Santa Lucia Highlands Pinot Noir 2017
Country- USA
State- Manteca, CA
Brand- Sonoma Hill Vineyards
Vintage- 2017
Type- Pinot Noir
Varietal- Red Wine
Price- $$$
Average Wine Rating- 4
Description:
Reserve Lot 47 Santa Lucia Highlands Pinot Noir 2017 has decadent aromas of black cherries, and vanilla, with hints of clove and sage, followed with notes of toasted caramel, with a long lingering finish.
Tobin's Review 4 out of 5
Reserve Lot 47 Pinot Noir 2017 has a dark crimson hue with aromas of cherry, spice notes and blackberry. The wine has flavors of soft sweet cherry, with a hint of vanilla. The wine is full-bodied with a nice lasting finish.
Have you had this wine? Comment below and share your thoughts on this Pinot Noir!