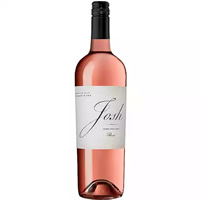 Josh Cellars Rosé 2019
Country- USA
State- California
Brand- Josh Cellars
Type- Rosé
Varietal- Pink Wine
Price- $$
Average Wine Rating- 3
Description:
Josh Cellars Rosé 2019 is crisp, refreshing and bright. The wine has flavors of white peach and strawberry with scents of nectarine.
About the Winery
In 2007, Joseph Carr founded Josh Cellars in honor of his late father Josh. Josh Cellars is part of the Deutsch Family and has been part of their portfolio since 2011.
Tobin's Review 3 out of 5
Josh Rosé 2019 has a light strawberry hue. I pick up aromas of peach with soft flavors of strawberry, peach and a creamy finish.
Have you had this wine? Comment below and share your thoughts on Josh Rosé 2019!