PromisQous Red Table Wine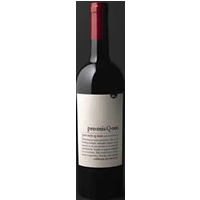 PromisQous Red Table Wine
Country- USA
State- Santa Rosa, California
Brand- PromisQous Wines
Type- Red Table Wine
Varietal- Red Wine
Price- $$
Average Wine Rating- 4
Description:
PromisQous is a blend of Zinfandel, Merlot, Cabernet Sauvignon, Petite Syrah and mixed red varietals. The aromas and flavors are ripe red and dark berry fruit, slight black pepper/ white pepper and creme de cassis.
Tobin's Review 4 out of 5
PromisQous is a smooth wine, which makes it very drinkable. I can taste vanilla, which I do enjoy!
Jeanine's Review 3 out of 5
PromisQous is surprisingly smooth, considering all of the grapes that are used to make this red table wine. It has a good body, and is not oaky or heavy. It is a very fruity wine and I also taste vanilla.
Have you had this wine? Comment below and share your thoughts on PromisQous Red Table Wine!