Purple Cowboy Tenacious Red 2007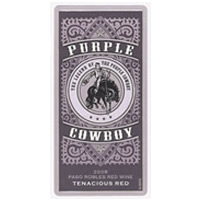 Purple Cowboy Tenacious Red 2007
Country- USA
State- Paso Robles, California
Brand- Purple Cowboy
Vintage- 2007
Type- Red Table Wine
Varietal- Red Wine
Price- $$
Average Wine Rating- 3
Description:
Purple Cowboys 2007 Tenacious Red has vibrant aromas of crushed red berries and cherries, notes of cola and cinnamon, and a hint of earthiness. Berry flavors explode in the mouth with cinnamon and cassis in the mid-palate leading to slight cocoa powder tannins on the finish. A very rich, full-bodied style.
Tobin's Review 2.5 out of 5
Purple Cowboys 2007 Tenacious Red is a full-bodied but fresh wine. It is rich and jammy with plum flavors that linger throughout.
Jeanine's Review 3 out of 5
PromisQous is surprisingly smooth, considering all of the grapes that are used to make this red table wine. It has a good body, and is not oaky or heavy. It is a very fruity wine and I also taste vanilla.
Have you had this wine? Comment below and share your thoughts on Purple Cowboy Tenacious Red 2007!