Pichon Claude Michel Chenin Blanc 2018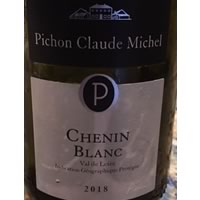 Pichon Claude Michel Chenin Blanc 2018
Country- France
State- Loire Valley
Brand- Pichon Claude Michel
Vintage- 2018
Type- Chenin Blanc
Varietal- White Wine
Price- $$
Average Wine Rating- 3
Description:
Claude Michel's Chenin Blanc 2018 is produced in the Loire Valley of France. This is a dry white wine made with 100% chenin blanc grapes.
Tobin's Review 3 out of 5
This Chenin Blanc 2018 has a nice slate color to it. The wine is kind of clear but possesses that grassy hay haze which makes your palate immediately jump in anticipation of an herbaceous wine. The wine has small legs and an abundance of fruits, from citrus to apple to a little apricot. While I make this wine sounds sweet, it is far from it. The wine is soft on the way down with a little minerality, hint of apple, peach and prune. Overall it is not an exciting wine, as my description makes it sound like it pops which it sadly does not. Just an average wine from the Loire Valley.
Have you had this wine? Comment below and share your thoughts on Pichon Claude Michel Chenin Blanc 2018!