My Cousin Vino Chianti 2006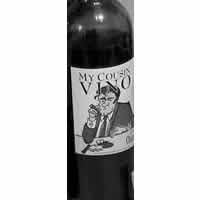 My Cousin Vino Chianti 2006
Country- Italy
Brand- My Cousin Vino
Vintage- 2006
Type- Chianti
Varietal- Red Wine
Price- $
Average Wine Rating- 3
Description:
My Cousin Vino is an Italian Chianti.  It has a bold flavor, mild acidity and low tannins.
Tobin's Review 3.5 out of 5
My Cousin Vino's 2006 Chianti has a cherry and berry aroma with a hint of vanilla.  It is smooth, and pretty good.  I liked it.
Jeanine's Review 3 out of 5
My Cousin Vino had a black cherry nose, and a light oaky flavor; kind of sour.
Have you had this wine?  Comment below and share your thoughts on My Cousin Vino 2006!