Il Tarocco Chianti Classico 2006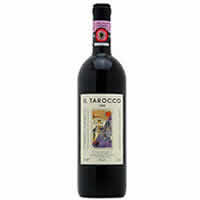 Il Tarocco Chianti Classico 2006
Country- Italy
Brand- Il Tarocco
Vintage- 2006
Type- Chianti
Varietal- Red Wine
Price- $
Average Wine Rating- 3
Description:
Il Tarocco is composed of 90% sangiovese and 10% canaiolo Nero grapes.  The color is ruby, with a ripe red fruit aroma and is a full balanced wine with a nice finish. The wine is aged in small oak French barrels for 12-months and 6-months in the bottle.
Tobin's Review 3.5 out of 5
Il Tarocco is a lighter tasting Chianti.  Some Chinati's can be heavy and bold but this is more drinkable and I enjoyed it.  It is a great wine for the price with a a fruity (cherry) aftertaste.
Jeanine's Review 3 out of 5
Not a heavy Chianti.  Full flavor and enjoyable.
Have you had this wine?  Comment below and share your thoughts on Il Tarocco Chianti Classico 2006!