Mouton Cadet White Bordeaux 2019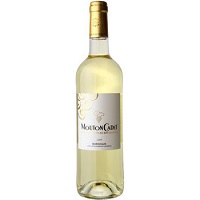 Mouton Cadet White Bordeaux 2019
Country- France
State- Bordeaux
Brand- Mouton Cadet
Vintage- 2019
Type- White Bordeaux
Varietal- White Wine
Price- $$
Average Wine Rating- 3
Description:
Mouton Cadet White Bordeaux 2019 has a grassy, herby character that emanates from the Sauvignon Blanc. The wine has a crisp texture and bright citrus acidity.
About the Winery
Baron Philippe de Rothschild created the Mouton Cadet brand in 1930. The wine was produced from grapes that he felt weren't worthy of the Chateau Mouton-Rothschild name, and despite the lack of prestige the wine became popular. As a result de Rothschild would begin sourcing grapes from a larger area and continued to produce a modestly priced and generic Bordeaux wine. Mouton Cadet continues to flourish to this day producing white, red and rose wines.
Tobin's Review 3 out of 5
Mouton Cadet's White Bordeaux 2019 has a creamy lemon hue with aromas of honeysuckle and lemongrass. The wine is semi-sweet, mildly dry and has flavors of lemon, custard and slate.
Have you had this wine? Comment below and share your thoughts on this White Bordeaux!