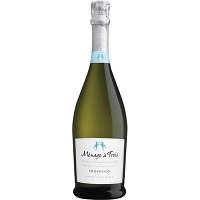 Ménage à Trois Prosecco
Country- Italy
Brand- Folie à Deux Winery
Type- Prosecco
Varietal- White Wine
Price- $$
Average Wine Rating- 3
Description:
Ménage à Trois Prosecco has delicate bubbles with a floral fragrance. The wine has flavors of citrus and green apple that leads to a crisp clean finish.
About the Winery
Folie à Deux Winery was founded by Evelyn and Larry Dizmang in 1981. Folie à Deux means 'a passion shared by two' in French. In 2004, they would ultimately sell their winery to the Trinchero Family Estates. In the same year the Trichero Family Estates would launch Ménage à Trois Red Blend. Folie à Deux Winery vints and bottles the Ménage à Trois brand; which is now comprised of 21 wine varietals and blends.
Tobin's Review 3 out of 5
Ménage à Trois Prosecco has lively bubbles. I can't pick up much of an aroma, but the wine starts sweet and ends slightly dry. Overall, it's non-descript but drinkable.
Have you had this wine? Comment below and share your thoughts on this Prosecco!