Long Valley Ranch Pinot Noir 2018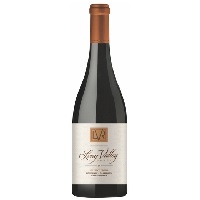 Long Valley Ranch Pinot Noir 2018
Country- USA
State- Greenfield, CA
Brand- Long Valley Ranch
Type- Pinot Noir
Varietal- Red Wine
Price- $$
Average Wine Rating- 3
Description:
Long Valley Ranch Pinot Noir 2018 has bright aromas of raspberry and strawberry that lead to flavors of cranberry, pomegranate and cherry. The wine has delicate notes of fresh herbs that are complimented by light vanilla from the French oak. Overall the wine is medium-bodied, well-balanced and has a soft, round mouthfeel and lingering red fruit finish.
About the Winery
The Long Valley Ranch Winery is located in Greenfield, CA. The winery currently produces three varietals- Chardonnay, Pinot Noir and Cabernet Sauvignon wines.
Tobin's Review 3 out of 5
This Pinot Noir has a plum hue with red fruit aromas. The wine has flavors of cherry, slight wood and gravel. Overall it's a smooth red wine with a slight oak finish.
Have you had this wine? Comment below and share your thoughts on this Pinot Noir!