Landry Vineyards Blueberry Merlot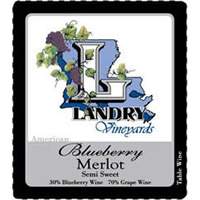 Landry Vineyards Blueberry Merlot
Country- USA
State- West Monroe, Louisiana
Brand- Landry Vineyards
Vintage- 2010
Type- Blueberry Merlot
Varietal- Red Wine
Price- $$
Average Wine Rating- 3
Description:
Landry Vineyards Blueberry Merlot contains 20% blueberry wine and 70% grape wine. The two fruits blend together to produce rich jammy flavors of the blueberry complimented by the soft tannins of the merlot grape. The result is a smooth blended wine with a semi-sweet finish.
Tobin's Review 3 out of 5
Landry Vineyard's Blueberry Merlot is a nice semi-sweet wine. It is not too sweet and actually very smooth. They do a good job blending the two fruits!
Have you had this wine? Comment below and share your thoughts on Landry Vineyards Blueberry Merlot!