Lane Tanner Pinot Noir 2008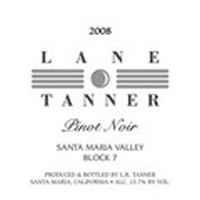 Lane Tanner Pinot Noir 2008
Country- USA
State- Santa Maria, California
Brand- Lane Tanner
Vintage– 2008
Type- Pinot Noir
Varietal- Red Wine
Price- $$
Average Wine Rating- 3
Description:
Lane Tanner specializes in Pinot Noir and Syrah wines. This 2008 Pinot Noir is full of fruit and is consistent with what you would expect form a Lane Tanner wine.
Tobin's Review 3 out of 5
Lane Tanner's Pinot Noir 2008, has a fruity aroma full of red fruit. The flavors of blackberry and plum round out the finish.
Jeanine's Review 3 out of 5
Lane Tanner's 2008 Pinot Noir is a fruity light wine. I found it smooth, but there is something in the finish that I am not fond of. It is definitely fruity though!
Have you had this wine? Comment below and share your thoughts on Lane Tanner Pinot Noir 2008!