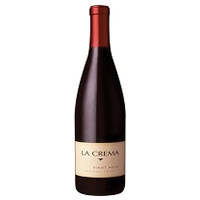 La Crema Pinot Noir 2010
Country- USA
State- Santa Rosa, California
Brand- La Crema
Vintage- 2010
Type- Pinot Noir
Varietal- Red Wine
Price- $$
Average Wine Rating- 3
Description:
La Crema Pinot Noir 2010 is produced in Santa Rosa, California. The wine is soft and smooth on the palate with finely ripened strawberry flavors.
About the Winery
La Crema winery was founded in 1979 and quickly established itself as a pioneer for their intensely flavored Chardonnay and Pinot Noirs. The winery has since become a formidable force in the industry and its tasting room is located in Healdsburg, CA.
Tobin's Review 3.5 out of 5
La Crema Pinot Noir has a light fruity to dark cherry nose. The wine is light, smooth and has a great nose. Hints of vanilla accent the wine. I really liked this Pinot Noir.
Jeanine's Revie 3 out of 5
La Crema Pinot Noir is a good very smooth wine. It is light and has vanilla, which I really like. This wine would pair well with fresh fruit.
Have you had this wine? Comment below and share your thoughts on La Crema Pinot Noir 2010!