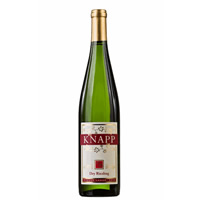 Knapp Dry Riesling 2017
Country- USA
State- Dundee, NY
Brand- Knapp
Vintage- 2017
Type- Riesling
Varietal- White Wine
Price- $$
Average Wine Rating- 3
Description:
Knapp Dry Riesling 2017 has aromas of citrus rind and white flowers which linger on the nose. Notes of green apple and citrus fruits are found on the midpalate, followed by bright and fresh acidity.
About the Winery
The Knapp Winery is located close to Seneca Falls in New York. The winery was founded in 1984 by the Knapp family. They were some of the first to vinifera grapes along the shores of Cayuga Lake. They were also the first winery in the Finger Lakes Appellation to plant and vinify Cabernet Franc. The Knapp's sold their winery to Gene Pierce and Scott Welliver in 2000 who still own the winery.
Tobin's Review 3 out of 5
Knapp Dry Riesling 2017 has a nice color. The wine is crisp with a hint of sweetness. It's not an overly sweet Riesling and I taste notes of apricot.
Have you had this wine? Comment below and share your thoughts on Knapp Dry Riesling 2017!