Regaleali Nero D'Avola Sicilia 2016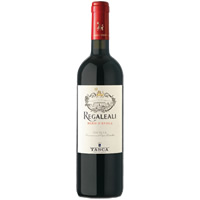 Regaleali Nero D'Avola Sicilia 2016
Country- Italy
Brand- Regaleali
Vintage- 2016
Type- Blended Red Wine
Varietal- Red Wine
Price- $$
Average Wine Rating- 3
Description:
Regaleali Nero D'Avola Sicilia 2016 has bright ruby-red colors with layered notes of cherry, mulberry and raspberry. On the palate, it is complex and supple, with ripe berry flavors framed by silky tannins.
Tobin's Review 3 out of 5
This wine has a fruity aroma, I actually detect cherries. It has hints of cherry in the wine, but the main flavors come from black fruits. It also is a dry wine.
Jeanine's Review 4 out of 5
The wine is dark in color with a cherry nose. I pick up tastes of cherry and plum. It's not a very complex wine, and is smooth and light with a smooth finish. It's also not too dry which is one reason I really enjoyed this wine.
Have you had this wine? Comment below and share your thoughts on Regaleali Nero D'Avola Sicilia 2016!