Justin Sauvignon Blanc 2010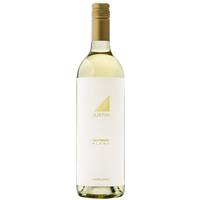 Justin Sauvignon Blanc 2010
Country- USA
State- Paso Robles, California
Brand- Justin
Vintage- 2010
Type- Sauvignon Blanc
Varietal- White Wine
Price- $$
Average Wine Rating- 4
Description:
Justin Sauvignon Blanc 2010's appearance is very bright with pale straw and silver/green highlights. The wine has aromas of lemon, ripe pink grapefruit and ripe pear with subtle white pepper and green herb accents. Overall the wine is dry, medium bodied, crisp with lemon and subtle mandarin citrus notes over a pleasant herbal background on entry with savory and mineral textural notes on the mid-palate and into the refreshing finish.
About the Winery
In 1981 Justin Baldwin purchased 180 acres of land in Paso Robles, CA with the aim of growing grapes and producing wine. Five years later Justin finally produced his first wines, a Cabernet Sauvignon and a Chardonnay. Now Justin is one of the larger wineries in Paso Robles and produces 15+ different types of wine. The winery grounds now has a tasting room, restaurant and even an Inn so you can truly experience a wine getaway!
Tobin's Review 4 out of 5
Justin Sauvignon Blanc 2010 has a very light color. I pick up a melon aroma with flavors of both apple and melon. It is soft and creamy without any traces of oak in the taste, which I really like.
Jeanine's Review 4.5 out of 5
Justin Sauvignon Blanc 2010 is a good Sauvignon Blanc. I smell both pineapple and citrus. It's crisp, light and fruity with flavors of pineapple and grape. It is sweet, but not overly sweet and crisp.
Have you had this wine? Comment below and share your thoughts on Justin Sauvignon Blanc 2010!