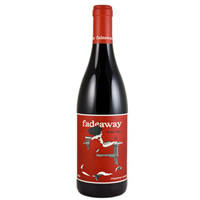 Fadeaway Pinot Noir 2010
Country- USA
State- Santa Maria, California
Brand- Trader Joe's
Vintage- 2010
Type- Pinot Noir
Varietal- Red Wine
Price- $
Average Wine Rating- 3
Description:
Fadeaway Pinot Noir 2010 is a Trader Joe's wine where the grapes are sources in the Santa Maria Valley and the wine is actually bottled by Central Coast Wine for the grocer. The wine has flavors of cherries, coffee beans, kirsch, rose petals and fallen leaves.
Wine Reviews
Tobin's Review 3 out of 5
Fadeaway Pinot Noir 2010 has a nice color with aromas of cherry. The wine is light on the tongue, has nice cherry flavors but is not very crisp. It is good, although I would prefer a lingering finish as opposed to the abrupt stop that I get from this wine.
Jeanine's Review 3 out of 5
Fadeaway's Pinot Noir 2010 is a nice inexpensive Pinot Noir. It is nice, light and aromatic. I taste cherry in the wine, which is good.
Have you had this wine? Comment below and share your thoughts on Fadeaway Pinot Noir 2010!