Georges Duboeuf Beaujolais Nouveau 2021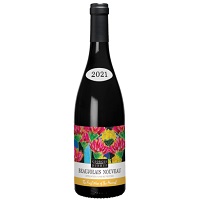 Georges Duboeuf Beaujolais Nouveau 2021
Country- France
State- Burgundy
Brand- Georges Duboeuf
Vintage- 2021
Type- Beaujolais Nouveau
Varietal- Red Wine
Price- $$
Average Wine Rating- 4
Description:
Georges Duboeuf Beaujolais Nouveau 2021 is produced in the Burgundy Region in France. The wine is light, soft and round with fresh and fruity raspberry and cherry liquor flavors.
About the Winery
The Duboeuf family has been producing wine in the Mâconnais region of France for over 4-centuries. Georges Duboeuf created Les Vins Georges Duboeuf in 1964. It wasn't until the 1980's when they began to export their Beaujolais' wine to North America, Australia and Japan. While Georges is currently managing the Vin Georges Duboeuf business, his son Franck has joined him.
Tobin's Review 4 out of 5
Georges Duboeuf's Beaujolais Nouveau 2021 has a dark plum hue with aromas of moss and hints of mint. The wine is nice and light with plum and biscuit notes. Overall, it's a juicy wine with a slight tartness to it. It's going to be a good year for Beaujolais!!
Have you had this wine? Comment below and share your thoughts on this 2021 Beaujolais Nouveau!