Veuve Cliquot Ponsardin Brut Rose Champagne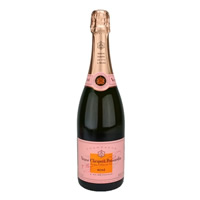 Veuve Cliquot Ponsardin Brut Rose Champagne
Country- France
State- Champagne
Brand- Veuve Cliquot
Type- Rose
Varietal- Champagne
Price- $$$$
Average Wine Rating- 3
Description:
Veuve Cliquot Ponsardin Brut Rose Champagne has a coppery-orange color with expressive aromas of strawberry and very ripe wild strawberries. It is full-bodied and has a structured and vinous palate which stays fresh. Length and character define this Brut Rose Champagne.
About the Winery
The Cliquot House was founded in 1792 by Philippe Clicquot. He already owned vineyards and wanted to establish a wine business with the ambition of "crossing borders". In 1805 Francois Cliquot passed away and his 27 year old widow took over the house, making her the first businesswoman of modern times. 5-years later Madame Clicquot created the first recorded vintage champagne in the region and started shipping Champagne to Russia, where it was well-received, in 1814. From then on, you can say that the rest is history! They have since produced many variations of Champagne and have enjoyed international success with their Champagnes!
Wine Reviews
Tobin's Review- 3 out of 5
Veuve Cliquot Ponsardin Brut Rose has a dark complexion for a Rose. The Champagne has nice bubbles, but is not very aromatic. Overall the taste is smooth and it's dry, but it's not my top preference. It is good, but for the money I would probably lean on a different Champagne.
Jeanine's Review- 3.5 out of 5
Veuve Cliquot Ponsardin Brut Rose is a good dry Champagne. It has nice body and decent bubbles. My initial taste was grape, but overall I thought it was good.
Have you had this wine? Comment below and share your thoughts on Veuve Cliquot Ponsardin Brut Rose Champagne!