Diseno Winery Malbec 2007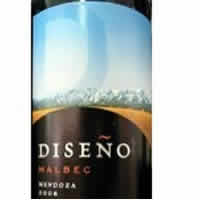 Diseno Winery Malbec 2007
Country- Argentina
Region- Mendoza Region
Brand- Diseno
Vintage- 2007
Type- Malbec
Varietal- Red Wine
Price- $$
Average Wine Rating- 4
Description:
Diseno Winery Malbec 2007 is produced in the Mendoza Region of Argentina.  The wine has a bouquet of lilac and cherry blossom.  The flavors are a hint of tobacco compliment the earthy blueberry and chocolate flavors.
Tobin's Review- 4.5 out of 5
Diseno's 2007 Malbec wine is very smooth and drinkable.  I haven't been a big fan of Malbecs for the past couple of years, but this one is worth it!  The wine is as light like a merlot and very flavorful.  Awesome wine!
Jeanine's Review- 3 out of 5
Diseno's 2007 Malbec wine is light, fruity and I like the flavors.  It is not a full-bodied wine, but I like it.
Have you had this wine?  Comment below and share your thoughts on Diseno Malbec 2007!