Da Vinci Pinot Grigio 2017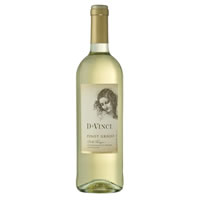 Da Vinci Pinot Grigio 2017
Country- Italy
Brand- Da Vinci
Vintage- 2017
Type- Pinot Grigio
Varietal- White Wine
Price- $$
Average Wine Rating- 3
Description:
Da Vinci Pinot Grigio 2017 is crafted from grapes grown in Delle Venezie in Italy. This wine is crisp, well balanced with floral aromas, hints of ripe apple, tropical fruit with a clean finish.
About the Winery
Da Vinci winery was established in 1961, in Vinci, by 30 local farmers who grouped together to form Cantine Leonardo da Vinci- a winegrowers cooperative. In 1965 Cantine Leonardo da Vinci had collected its first harvest and began selling its wine. Today the cooperative encompasses over 500 hectares of vineyards and is now sold in 47 countries.
Tobin's Review 3.5 out of 5
Da Vinci Pinot Grigio 2017 has an off hay or straw complexion. I pick up aromas of pineapple along with other tropical fruits and taste pineapple in the wine. The wine starts out with a little hint of sweetness, but is followed by creaminess and a tart fruit finish.
Jeanine's Review 3 out of 5
Da Vinci Pinot Grigio 2017 has aromas of cantaloupe and pineapple. I pick up flavors of melon with a hint of green apple. The wine is both sweet but has a slight hint of tartness.
Have you had this wine? Comment below and share your thoughts on Da Vinci Pinot Grigio 2017!