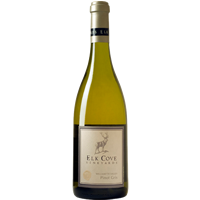 Elk Cove Pinot Gris 2017
Country- USA
State- Gaston, Oregon
Brand- Elk Cove Vineyards
Vintage- 2017
Type- Pinot Gris
Varietal- White Wine
Price- $$
Average Wine Rating- 4
Description:
Elk Cove Pinot Gris 2017 opens with green apple and papaya alongside breezy aromas of fresh meadow. This wine is exuberant on the palate with nectarine and melon, flourishes of lychee and a lingering pink-peppercorn finish.
About the Winery
Elk Cove Vineyards, located in Gaston, OR, was founded in 1974 by Pat and Joe Campbell. Their son Adam is now the winemaker and has been since 1995, making this a family owned winery.
Tobin's Review 3.5 out of 5
The wine has a hazy hue. The wine opens with aromas of citrus and pineapple. I taste flavors of citrus and pineapple as well with a post palate of a long lingering pineapple and peach.
Jeanine's Review 4 out of 5
Elk Cove Pinot Gris 2017 has a citrus nose. I taste flavors of melon and tart apple.
Have you had this wine? Comment below and share your thoughts on Elk Cove Pinot Gris 2017!