Dellatorri Chianti Reserva 2005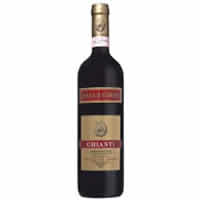 Dellatorri Chianti Reserva 2005
Country- Italy
Brand- Dellatorri
Vintage- 2005
Type- Chianti
Varietal- Red Wine
Price- $$$
Average Wine Rating- 3
Description:
Dellatorri Chianti Reserva 2005 is a fresh and vibrant wine that has a soothing balance of sweet spices, cherries and elegant floral notes.
Tobin's Review 2.5 out of 5
Dellatorri's 2005 Chianti Reserva has a sweet aroma with a hard tart finish.  It literally sucks the juice out of my tongue!
Jeanine's Review 3 out of 5
I found Dellatorri's 2005 Chianti Reserva to be lighter for a Chianti.  It has a little spice, but is very hard to decipher the flavors of the wine.
Have you had this wine?  Comment below and share your thoughts on Dellatorri Chianti Reserva 2005!