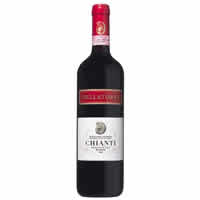 Dellatorri Chianti 2008
Country- Italy
Brand- Dellatorri
Vintage- 2008
Type- Chianti
Varietal- Red Wine
Price- $
Average Wine Rating- 3
Description:
Dellatorri Chianti 2008 is an Italian Chianti that is bright with cherry aromas and soft vanilla and berry fruit flavors.
Tobin's Review 3 out of 5
Dellatorri's 2008 Chianti is fruity and does not dry the palate which can often occur with Chiantis.  I can taste plum and it is very light- overall it is a good Chianti.
Jeanine's Review 3 out of 5
I found Dellatorri's 2008 Chianti to have a cherry aroma.  It is not full bodied, not fruity, and is simple with a flat finish.
Have you had this wine?  Comment below and share your thoughts on Dellatorri Chianti 2008!