Dancing Bull Zinfandel 2008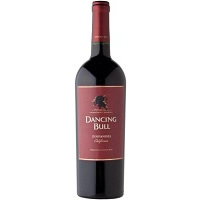 Dancing Bull Zinfandel 2008
Country- USA
State- Modesto, CA
Brand- Dancing Bull
Vintage- 2008
Type- Zinfandel
Varietal- Red Wine
Price- $
Average Wine Rating- 3
Description:
Dancing Bull Zinfandel 2008 is a bright zesty wine produced in Modesto, CA. The wine is bright, zesty and bursts with flavors of black cherry and raspberry with just the right amount of spice.
Tobin's Review 3 out of 5
Dancing Bull's Zinfandel 2008 has a fruity and zesty aroma. I can pick out flavors of raspberry which makes this a good choice for a less expensive bottle of wine.
Jeanine's Review 3 out of 5
2008 Dancing Bull Zinfandel has a cherry and vanilla aroma. I taste cherry with a hint of mint and vanilla. The wine finishes with spice.
Have you had this wine? Comment below and share your thoughts on Dancing Bull Zinfandel 2008!