Chateau Miraval Cotes de Provence Rosé 2017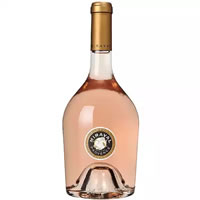 Chateau Miraval Cotes de Provence Rosé 2017
Country- France
Region- Provence
Brand- Miraval Winery
Vintage- 2017
Type- Rosé
Varietal- Pink Wine
Price- $$$
Average Wine Rating- 3
Description:
Chateau Miraval Cotes de Provence Rosé 2017 has aromas of fresh fruit and spring flowers. The wine has mineral notes with a long and intense finish.
About the Winery:
In the ancient village of Correns, France, lies the Miraval Winery in a magnificent chateau. It is surrounded by a lush land dedicated to legendary artistic wines. The Miraval Winery is perfectly elevated for a soaring balance of harmony and freshness.
Miraval Winery's site dates back to the pre-Roman era. It was the home of Giovanni Antonio del Balzo Orsini, a noble from the Kingdom of Naples. It was also previously owned by Jacques Loussier, a famous French pianist and composer well-known for his jazz interpretations. He installed a recording studio in the chateau, which attracted famous singers such as Sting, The Cranberries and Pink Floyd. The winery hit national headlines in 2008 when the famous Hollywood stars, Brad Pitt and Angelina Jolie, leased it for three years, with an option to buy. The couple owned the property before their infamous divorce.
Famille Perin produces Miraval's delicious wines. Miraval's land is organized into dry stone terraces where each vineyard is located at an average altitude of 350 meters. Its chateau consists of 35 rooms surrounded by olive trees, an abundant water supply, a pond, chapel and a vineyard. One of its popular wines is Chateau Miraval's Rosé, a wonderful blend of fruity aroma and freshness. It comes in a pink pale color with scents of white flower, little red berries, freshly crushed strawberries and notes of ripe Morello cherries. It was named one of the "Top 100 Wines in the World" by Wine Spectator Magazine in 2012.
Tobin's Review 3 out of 5
Miraval Rosé 2017 has a light pink hay hue with aromas of cherry, raspberry, cantaloupe and honeydew melon on the nose. The wine is soft on the tongue with a flavors of honeydew and cantaloupe.
Have you had this wine? Comment below and share your thoughts on Chateau Miraval Cotes de Provence Rosé 2017!